Sometimes post office workers are unsure whether engine oil can be mailed. However:
Oil is NOT hazardous material!
It is safe and legal to send oil through the US Mail.
Return postage is paid by Blackstone, if sent from the US. The black mailer should be in a white tyvek envelope. Just drop the kit in the mail.
Note: Take a picture of tracking number so you can see where the sample is at if it doesn't arrive here in a timely fashion.
If your kits have the old labels, let us know and we will send you new labels.
If a postal worker insists that oil can't be mailed, please give them our post office letter. It explains how our kits — and the oil itself  — conform to US Postal Regulations. If they still resist accepting your sample, have them call us at 260/744-2380. We may not be able to change their mind, but we can try.
Click here to access the Post Office Letter
Click here for USPS regulations on mailing oil samples. Note 343.1(b): A liquid with a flashpoint above 200° F (93° C) is not regulated as a hazardous material and may be mailed subject to the general packaging requirements in DMM 601.1-7, provided it possesses no characteristics of another hazard class. (That's engine oil.)
International customers: We regularly receive samples from all over the world. Please consult your local post office for postage required to get your sample to the United States.
Canada Post: Engine oil is not flammable and so can be mailed in small quantities when it is packaged correctly.
Great Britain/Royal Mail says: Liquids under 1 litre are allowed in the mail; see guidelines below:
Items must be securely closed and placed in a leak-proof inner liner, such as a sealed polythene bag and in a leak-proof outer
The sender's name and address must be clearly visible on the outer packaging.
Australia says: Engine oil is not a flammable liquid (see section D2.3) therefore it can be mailed if it is appropriately packaged.
Send your sample to:
Blackstone Laboratories
416 E. Pettit Ave.
Fort Wayne, IN 46806
This is the label to use!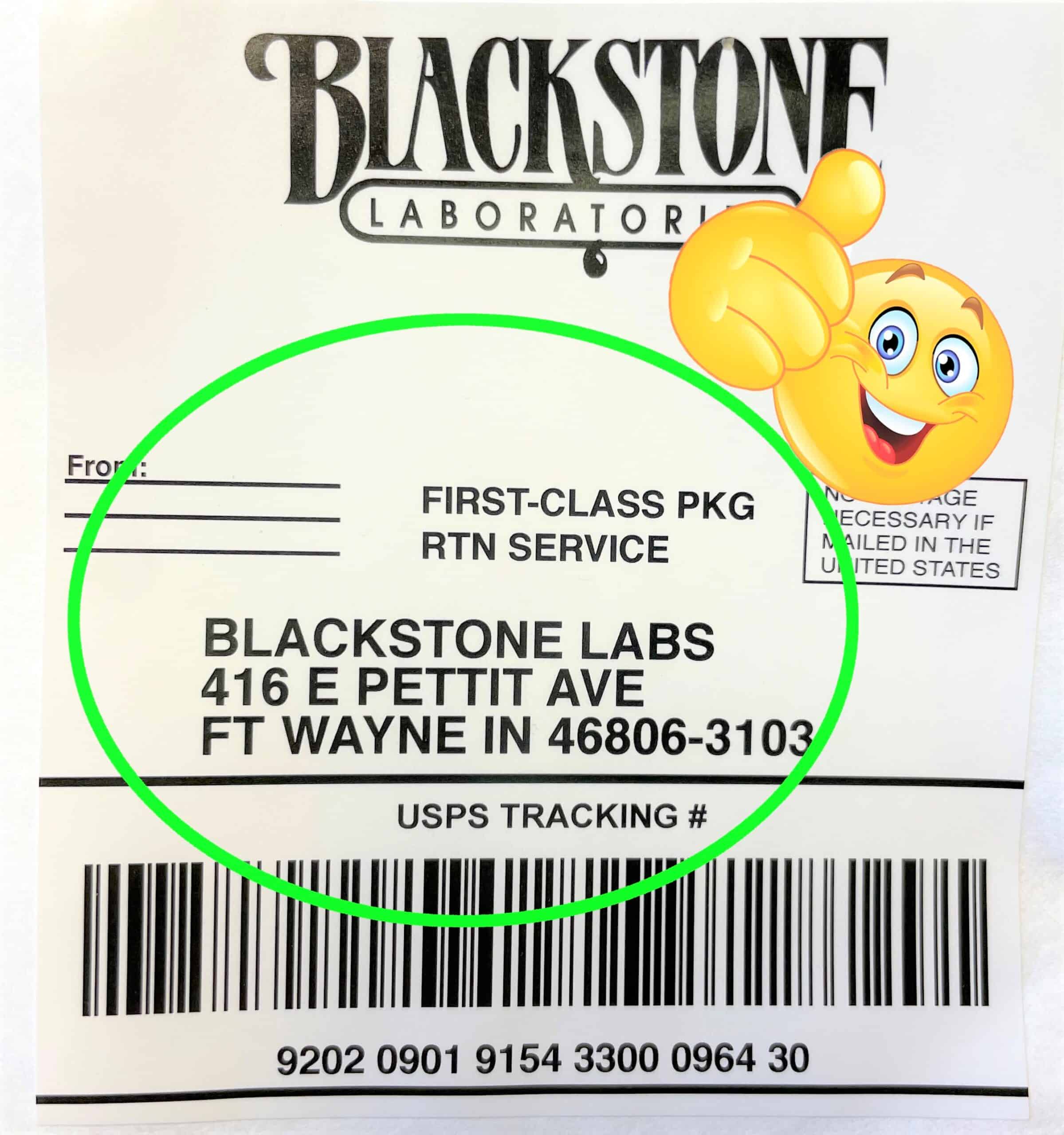 Don't use the Merchandise Return labels.